HIDE AND SEEK
Hide and Seek is a workflow plugin that can make complex selections of objects groups in your Cinema 4D scene which you can then modify globally or individually. Hide and Seek will keep you organized and sane when working on any project in C4D!
Hide and Seek Core Features
Create complex object/tag selections easily based on an objects type or name
Modify your selections globally or quickly step through them one by one
Search scene wide or within specific hierarchy's
Quickly Hide, Reveal or Solo your selections
Save your selections and come back to them anytime
Works with 3rd party plugins such as:

Corona
Redshift
Octane
Vray
Xparticles
Compatible up to Cinema 4D 2024

Currently only available in English
MAKE COMPLEX SELECTIONS EASY
Searching for an object type will select all objects that match. For example you could do a broad search for "Splines" to select all splines types, or you could narrow your search and type "Helix" to find only Helix splines or "Editable Splines" to find non-primitive splines.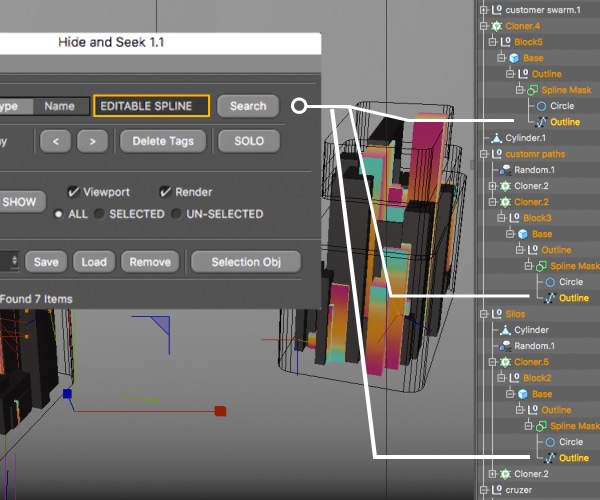 WORKS WITH TAGS TOO!
Search for tags the same way you search for objects, just add "Tag" at the end of your search. You can also search for things like "Missing Texture Tags" and easily delete them, or quickly find and modify your "Compositing Tags".
CYCLE YOUR SELECTIONS
Once you have a selection you can modify those objects parameters globally in the attribute manager or use the arrows in the Hide and Seek plugin interface to cycle through and adjust objects individually for more precision editing.
SAVE SELECTIONS FOR LATER
Save your selections and quickly come back to them anytime. You can add any objects to your selection. Just choose a choose a tag number hit "Save" to tag your objects. You can also save your objects into a C4D selection object as another option.
LESS TIME SEARCHING = MORE TIME CREATING!
Enhance your creative workflow with 

HIDE AND SEEK
Compatible up to Cinema 4D 2024 •   English Only
Change Log
11-8-19 
-Updated search for C4D R21 objects(Field Force, Volume Tag, etc)
11-11-19 
-Added search support for third party renderers(Corona, Redshift, Octane, Vray)
-Fixed saving and loading for R21. Holding "Shift" and clicking Load will add to your current selection instead or replacing it.
09-27-20 
-Support for R23
09-30-23 
-Support for C4D 2024