What is it?
MoSelector gives you incredible control over the Mograph items you want controlled by your Cinema 4D Effectors. In addition to being able to select any Mograph objects with ease you can animate your selections to create some really creative and unique effects that would be impossible with manual or falloff selections. Stop trying to position Effector falloffs all over the place and start animating your Mograph objects with precision!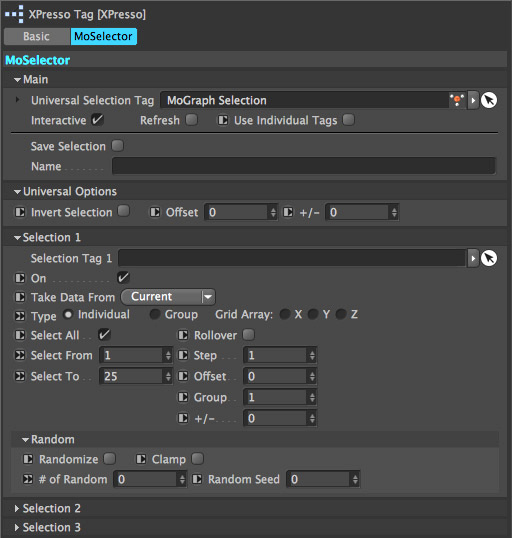 Features
-Easily select individual or a range of clones that can be applied to any Mograph effector
-Animate any MoSelector property to create unique animations
-3 Mograph Selections per tag(can be duplicated) with Individual and Universal offsets for each selection
-Instantly save out your selections as a new Mograph Selection Tag
-Supports all Mograph objects besides Tracer Object
-Easily move setups and selections between Mograph Objects
-Setup can be duplicated on same object for infinite number of selections
-Built with the power of Python at its core then wrapped inside Xpresso for a user friendly setup
-Lots of options to customize your selection: Step, Offset, Grouped Selections, Expand, Columns/Rows and Randomize
-Includes a custom Python Effector that allows falloff to your MoSelector selections
Content Browser Presets
The content broswer preset comes with all of the mograph objects already hooked up to MoSelector, or you can drag the MoSelector tag and a selection tag in separately.
Lots of example scenes
Simple examples with explinations for every type of Mograph object are included. These will provide a good starting point on how you can use MoSelector in any project.
Compatiblity
–MoSelector is compatible with Cinema 4D R13-19+
–MoSelector Falloff Effector works with R16+
Limitations
None! You can use this exactly as you would any other Mograph selection. Scenes with very high cloner counts may experience lower frame-rates when using MoSelector due to the fact that it has to do calculations for every clone per frame. If that happens you can uncheck the Interactive box to speed things back up and use refresh to see the most recent updates to MoSelector. Additionally, for scenes with animated selections you can use the Mograph Cache tag to save your animations to disk.
More Useful Tools From Alpha Pixel