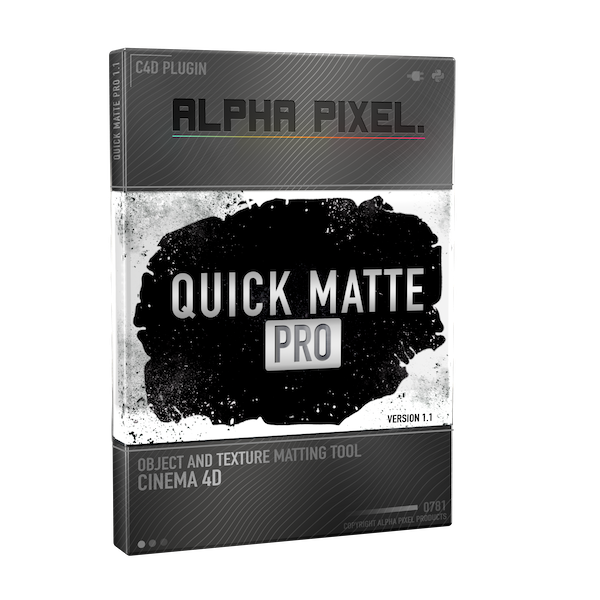 QUICK MATTE PRO
Quick Matte Pro takes care of all your matting needs in one simple plugin. No need to re-render your scene or go through the tedious task of setting up object buffers manually just to get the alpha you were looking for, Quick Matte does in one click! It was designed to do one thing – get artists their mattes as fast and easy as possible!
Quick Matte Core Features
Create mattes instantly with a click of a button
Preview mattes and object buffers in the viewport
Matte materials and textures with alphas
Render mattes without rendering your RGB scene
Set an unlimited number of object buffers
Easy and intuitive controls to get your mattes quick
Set it all back to normal with the handy "Reset" button
Compatible with Cinema 4D up to 2023

Available in all languages!
MATTING MADE SIMPLE
As soon as you set your first matte Quick Matte becomes Active. Once you hit render will only see your matted objects in the viewport. From there simply select the objects or materials you want to matte and click "Add To Matte". Simple!
ISOLATE YOUR MATERIALS
Objects are not the only options for Quick Matte Pro. Switch to "Material" mode in the Quick Matte interface and make a selection in the material manager and it will be matted scene-wide.
TEXTURES WITH ALPHAS
Along with materials you can isolate specific texture tags you want to Matte. This is especially helpful when you when you have multiple materials on one object. If that texture tag has a material with an alpha channel Quick Matte uses it when converting it to a Matte Object.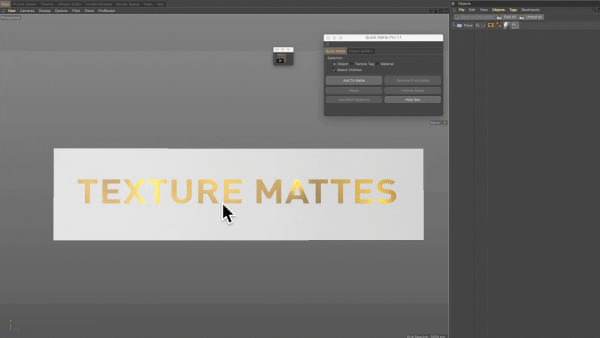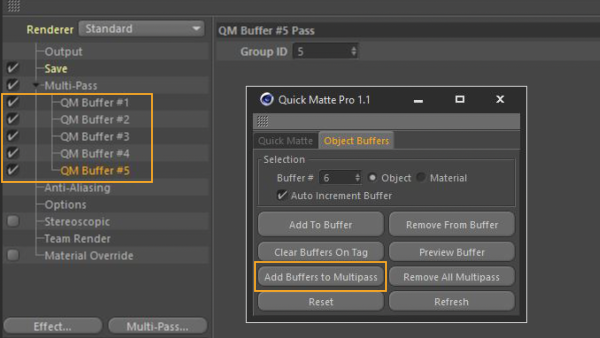 OBJECT BUFFER MANAGER
Object Buffer can be slow and difficult to work with. Quick Matte Pro gives a much easier way to add objects to your multipass by taking all the tedious work out of it. The process is the same as Quick Matting your scene with a button to instantly add all of your buffers to your render settings multipass.
Speed up your matting workflow with

QUICK MATTE PRO
Compatible up to C4D 2023  •  All Languages
Change Log
-11-04-22
-Working in C4D 2023

-09-27-20 
-Compatible with R23

-11-9-19 
-Now checks texture tags when adding Texture tag and Material Mattes. Non-matted texture tags set to black automatically(huge fix!)
 
-9-11-19 
-Fix Help Doc and now works with ANY language!