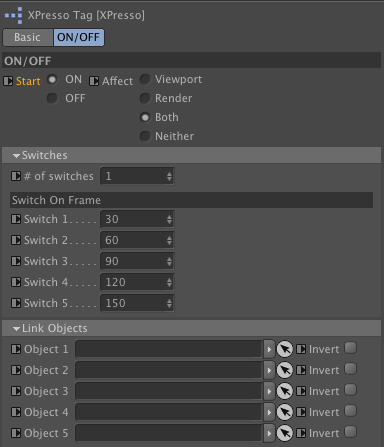 Updated for R20+
Here is a simple but very useful tool for Cinema 4D that turns objects on and off easily without keyframes. I find myself trying to hide and reveal objects all the time, and its a pain to have to keep track of all those little keyframes. Well with ON/OFF Switch simply add the tag to an object and just punch in a keyframe to switch the visibility and DONE! Its a pretty straight forward preset but here's a breakdown of the option's anyway. The newest feature is the added Invert option on the link objects, check out the description below.
Start : You guessed it! Sets the start visibility of the object to On or Off
Affect: Here are some options of how the tag affects your objects visibility.
# of Switches: Sets the number of switches you want active. If your switch is set to 2, only switches 1 and 2 will be active and the rest will be ignored.
Switch: These are the switches that will turn your object on or off at the frame you enter.
Link Objects: Here you can drag other objects or a null with a bunch of objects in and make them hidden/revealed on the same frames. This is useful if you're changing values a lot, so you don't have to go in to a bunch of these tags and change them all.
*NEW * Invert: This will invert the visibility of your link object to the main object. So if you want to do a quick swap of an object(s) on the same frame you can do it here without having to add another Xpresso Tag.
***Note: Setting the Affect mode to neither is a useful way to reveal the object even if all of your switch frames are set.
Install: Just open the file, select the tag, and in Object Manager select File->Save Tag Preset. When you need it again select your object, then select File->Load Tag Preset->User->Tags->ON-OFF Switch. Done!