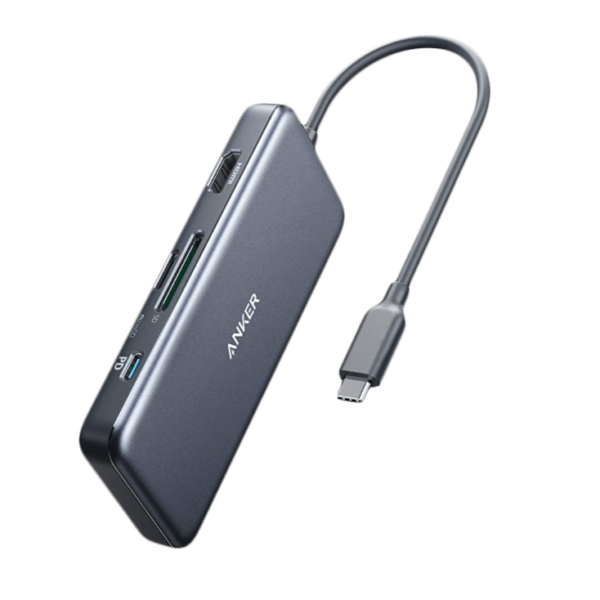 WHAT IS IT AND WHY IS IT GOOD?
While modern-day computers are starting to shift over to USB-C only connections there are still a ton of accessories that use the USB-A port that has been around for decades. Luckily there are plenty of adapters that give us back access to those devices and more. There are lots to choose from and some that offer seemingly far too many options and connections, when there are too many connections there is a concern of overloading the input and its impact on all the devices connected to it. I've been through a number of them and the adapter from Anker has been stable for over a year now.
Takes Care Of Most Needs
"Need Input!", bonus points if you can name that movie:) This adapter can take care of hooking up all of your basic accessories being that it has 2 USB-A 3.0 inputs which are great for things like keyboard, mouse, tablet, slower hard drives, etc. Then it gives you back the USB-C port that it takes for connecting to the computer. It also has a 4K HDMI Out for a second monitor along with SD and Micro SD card slots for good measure, another thing modern computers seem to have done away with. Those ports should cover most of what an artist would need. Just keep in mind I wouldn't recommend connected an SSD Hard Drive to this as the adapter's USB connection speeds are likely not fast enough to take full advantage of a device like that, instead check out my other article on a 4-Port USB 3 Gen 2 Hub. Otherwise, I would be hesitant to purchase an adapter that had more ports than this without a dedicated power supply, then you run the risk of overloading it and causing devices to lose power or monitors to flicker. It does have a USB-C power pass-through to charge your laptop and free up another port as well.
Final Verdict
Anker is a solid brand that has a great reputation for devices like this, I also own a power bank from them that has been fantastic and this device is no different, it's versatile, portable, and reliable. My adapter has my keyboard, tablet, and stream deck plugged into it along with a second monitor and have never had an issue. It's also inexpensive! There is a faster version that adds 10Gbps speeds to the ports along with an ethernet cable for almost triple the cost but if you aren't connecting fast SSD's through this then the speeds here will be more than enough. So if you're stuck with more devices than your computer has ports this adapter may be the perfect solution for you!
The

Anker USB Adapter Hub

is available for Mac and PC. Just make sure to take note of the USB-C connection type to your computer mentioned above.
If you have suggestions for similar products leave them in the comments!