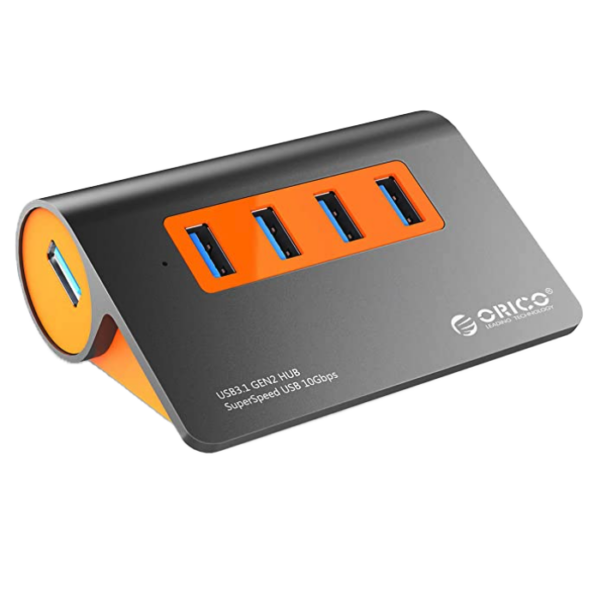 WHAT IS IT AND WHY IS IT GOOD?
USB-C connections are the universal future of our devices but there are still a ton of accessories that use the USB-A port that has been around for decades. A lot of modern-day computers and laptops are switching over to USB-C inputs already leaving many of your external hard drives and peripheral incompatible. The need for a dock that can give us back access to those devices as well as keeping speeds fast enough for modern-day projects is necessary. After looking around, sure, there are plenty of USB docks out there but I wanted one that had USB-C speeds and also doesn't drain power from my laptop. That's where this hub from Orico steps in.
Fast Speeds – Low Power Usage
It's a 4 port USB-A dock that uses USB 3.1 Gen 2 (10Gbps) speeds which are the same high speeds the USB-C uses. So if you bought the latest Sand Disk Extreme Portable SSD drive(or a few of them) you can connect it knowing you are taking advantage of its super-fast read/write speeds. Most modern USB devices such as the Sandisk Hard Drives are USB powered as well, which means if you have 4 devices plugged into the dock they would all be draining power from your computer, possibly even more power than your computer can output causing battery drain or for your devices to not work at all. I like to put as little stress on the computer as possible which is why I like that this has a dedicated power supply to the dock ensuring that everything stays running smoothly.
Check Your Connection
Some things to note are that the cable that connects from the hub to the computer is a USB-A connector which means if your computer only takes USB-C, like Macs from the past few years, you will need to buy a small but useful USB-C Male to USB-A Female 3.1 Gen 2 Adapter. They're not expensive but it can be hard to spot the right one to keep speeds at the maximum(10Gbps) which can take some looking around, I'll provide a link to a compatible one HERE.  Also, the connecting cable is quite long(3feet) and seems to only be compatible with the cable that comes with it. So if your dock sits right next to your computer you may need to find creative ways to hide it if that bothers you.
Final Verdict
Overall this is exactly what I was looking for fast, slick, reliable, and keeps power drain off my computer. I've had it for about a year and it's never dropped connection to any devices once. Aside from the long cable and connection type this unit works perfectly and is highly recommended.
The

Orico 4 Port USB 3.1 Hub

is available for Mac and PC. Just make sure to take note of the connection type to your computer mentioned above.
If you have suggestions for similar products leave them in the comments!